Check out our latest press coverage
The 18th Amendment Bar is regularly featured in the media in both online and offline publications newspapers, online sites, events and radio.
Here is some of our recent press coverage:


The 18th Amendment Bar WINS "Best Regional Bar at the Australian Bartender.
Australian Bartender, 19 September 2018
The event, which sold out weeks ago, kicked off with cocktails on the deck, featuring everything from Espresso Martinis to Aperol Spritzes. Guests then moved into the dining room, under the expert guidance of bar industry personality MC Stu Gregor. First up, a series of state awards were presented with venues such as Bar Rochford in Canberra and VOID Bar at MONA in Tassie getting a nod for their achievements. In addition, a very happy crew from the 18th Amendment Bar in Geelong, was awarded the title of Regional Bar of the Year…

The 18th Amendment Bar has taken out best regional bar at the Annual Bar Awards.
Social Pages VIP, 19 September 2018
If you've been looking for a reason for a few celebratory drinks, there's definitely a few in order with the 18th Amendment Bar's newest accolade.
We announced recently the Geelong bar had been shortlisted for the best regional bar (as well as a few other noms) and last night the team were crowned winners.
The award was for the 18th Annual Bar Awards put on by Australian Bartender …

Brewstillery Mix Masters competition
Drinks Guide, 10 September 2018
Damien Kos Makes Top 16 in Bartender of the Year!
Gorge Camorra and Damien Kos make the National Finals for the Amaro Montenegro "Vero Bartender" Competition
Indra Saryani and Damien Kos WIN the "Most Passionate Bartender" for Licor 43 and are going to Spain in November!
Damien Kos makes State Final for the Woodford Reserve Cocktail Challenge to be competed late September
Damien Kos WINS Stone and Wood and Brookies Gin "Brewstillery" Cocktail Competition and is going to Byron Bay to make his own beer and gin!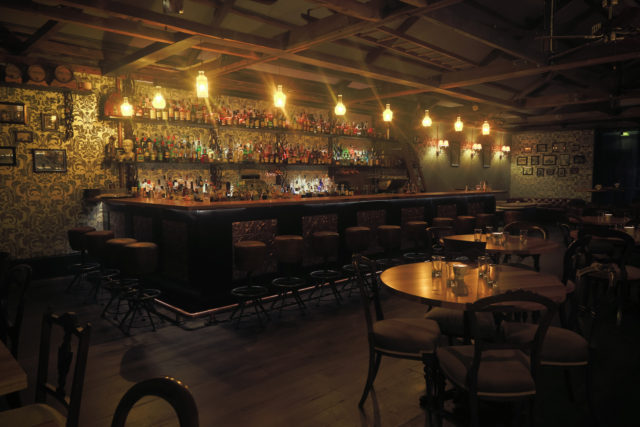 Geelong's very own speakeasy now open for business
Drinks World, 8 August 2017
Bartender and the man behind Camorra Liqueurs, Gorge Camorra has opened The 18th Amendment Bar in the Victorian city of Geelong, which pays homage to the prohibition period and celebrates the efforts of undeterred bootleggers and back door bartenders who were responsible for growing illegal 'speakeasy' venues across America, and in the process creating some of the most well know classic cocktails that still feature as bar calls to this day…..

The 18th Amendment Bar is open for business
Forte Magazine, 2 August 2017
After eight months of renovating and six years of planning The 18th Amendment Bar is finally open for business.
A 1920s Prohibition style cocktail bar that will boast our regions largest range of premium spirits and liqueurs including over 130 different whiskies from around the world.
The brainchild of Australian hospitality veteran, Gorge Camorra, the venue will also feature barrel ageing cocktails…..

Two Aussies to compete in elit art of martini Global Final
Drinks Guide, 29 June 2017
The Melbourne finalists were:
Blake Hall – The Store Room, St. Kilda
Emma Cookson – Polly Bar, Fitzroy
Chris Hinds – Polly Bar, Fitzroy
Indra Saryani – 18th Amendment Bar, Geelong …..

You'll need to enter via the metalworks to enter The 18th Amendment Bar
Australian Bartender, 15 May 2017
Expect Geelong's biggest spirits selection when new bar The 18th Amendment Bar opens in June.
The 18th Amendment Bar is the brainchild of Australian hospitality veteran, Gorge Camorra, and has been in development over the last five years, according to manager, Damien Kos. They've been waiting on the "right venue to reveal itself," he says, and "in October of last year it did and we have been renovating since."…..

Beer Cocktail Anyone?
Geelong Business News, 9 February 2017
While many beer enthusiasts would shudder at the idea of mixing beer with anything but beer, we can absolutely understand the appeal. The list of cocktails that Gorge Camorra has put together highlights the numerous mixology awards that he has accumulated and demonstrates his ability to blend diverse flavours to bring us delicious summer drinks…..

Geelong's West End: Gorge Camorra set to open up new cocktail and spirits bar on Little Malop St
Geelong Advertiser, 26 November 2016
GEELONG'S cocktail king has moved into Little Malop St, as the building's former owner refunds party booking deposits.
After buying the site last week, award-winning barman Gorge Camorra has been getting his hands dirty as he turns the former function room into a prohibition-style speak-easy.
Taking its name from the law that banned alcohol in 1920s America, The 18th Amendment bar will feature liqueurs­ and spirits with degustations, tastings and molecular mixology……